BIOGRAPHY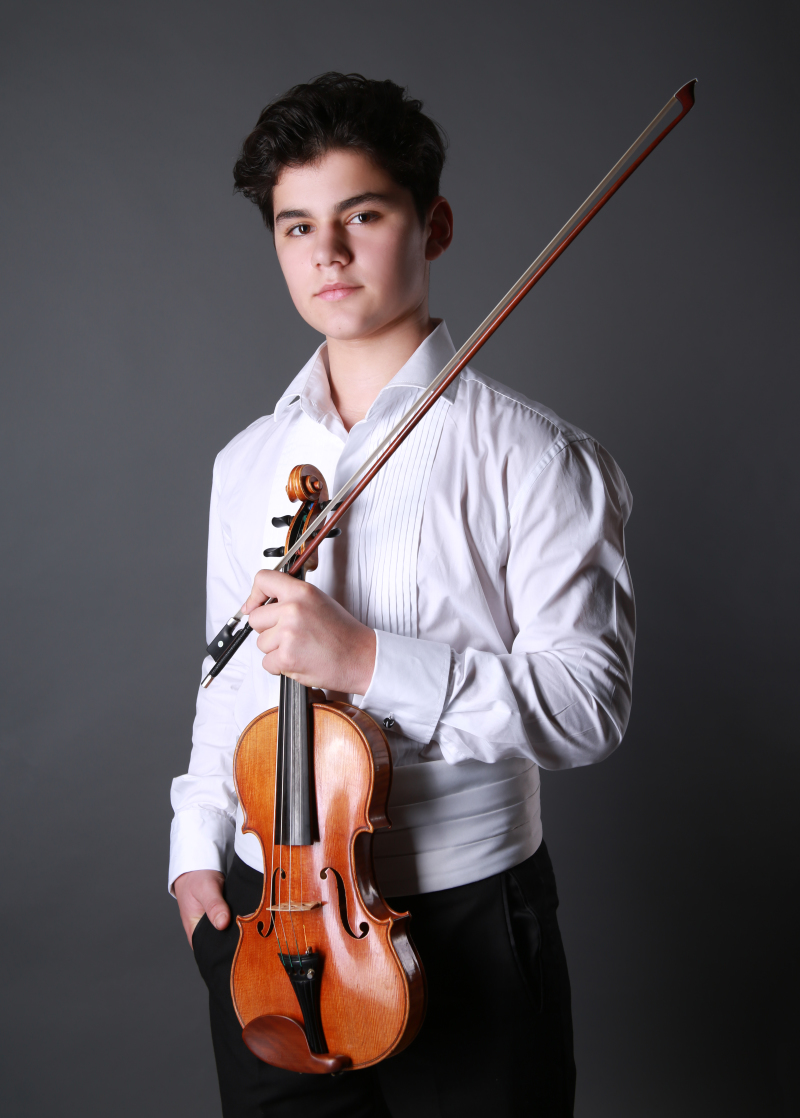 A third generation German violinist, Leonard Toschev was born in Leipzig (Germany) in 2005 into a musical family. He started playing violin at the age of 4 and already at the age of 11 he began his studies at the Berlin University of the Arts, Julius-Stern-Institut as a junior student of Professor Tomasz Tomaszewski.
At the age of 13 Leonard was accepted into the violin class of Professor Boris Garlitsky at the Folkwang University of Arts in Essen, Germany.
Master classes with teachers such as Prof. Zakhar Bron, Prof. Pavel Vernikov, Prof. Svetlana Makarova, Frank Peter Zimmermann, Prof, Anne-Kathrin Lindig, Prof. Viktor Tretyakov and Prof. Petru Munteanu enhanced his musical education.
At the age of 11 he made his debut as a soloist with the Loh - Orchestra in Sondershausen, Germany with the Violin Concerto C-Dur, op. 48 of Dmitri Kabalewski.
As a soloist Leonard Toschev played with such orchestras as Lithuanian National Symphony Orchestra, Anhaltische Philharmonie Dessau, Staatskapelle Halle, Vogtland Philharmonie, Sion-Festival-Orchestra and Loh-Orchestra Sondershausen.
15-year-old violinist Leonard Toschev is a winner and laureate of several national and international music competitions:
2016, 2017, 2019, 2021: 1st prizes at the German national competition "Jugend Musiziert"

2018: 1st prize at the " 11th International Grumiaux Competition" in Brussels, Belgium

2018: 1st Prize and Grand Prix at the EMCY International Music Competition "Ohrid Pearls" in Ohrid, Northern Macedonia

2018: 1st Prize at the German national violin competition "Rust-Preis" in Dessau, Germany and a special prize: concerts as a soloist with the symphony orchestra "Anhaltische Philharmonie".

2019: 1st prize at the "16th International Telemann Competition" in Poznan, Poland and the special prize for the best interpretation of a Fantasy for Violin solo of Georg Philipp Telemann 2019

2019: 3rd prize and a special prize at the "26th international competition Andrea Postacchini" in Fermo, Italy

2020: 1st prize and a special prize at the international
"Young Ludwig Youth Competition" in Berlin

2021: as a youngest finalist (15 y.o) he was awarded with a diploma at the "6th Jascha Heifetz Competition" in Vilnius, Lithuania

Leonard Toschev is a scholarship holder of the "Deutsche Stiftung Musikleben" and the International Music Academy Berlin. He has already given concerts in Germany, Belgium, Italy, Poland, Northern Macedonia and Switzerland.
As a laureate of the 27th competition of the German Musical Instrument Fund, Leonard Toschev has been playing a violin by Enrico Ceruti, Cremona 1845.